Student Resources

Links and resources to top up your course.
The Course
The course is set by the CAA and leads to a National Private Pilot's License (Microlight). You can find more information on the NPPL website.
You can download the course syllabus free here.
We recommend Flylight's excellent set of briefing notes which can be ordered online: Flylight online shop. Just make sure you order the flex wing ones, not the fixed wing!

Exams
The 5 exams you will need to take are:
• air law
• human performance
• navigation
• meteorology
• Aircraft General

The exams are are multiple choice. You can do practise papers online at Microlight Hangar
What else will you need to get your license?
A minimum of 25 hours is needed to attain the unrestricted National Private Pilot's License (microlight). This includes 10 hours flying solo and 15 hours dual flying with an instructor. Two qualifying cross country flights are required with 2 out-landings of greater than 25nm from the point of departure. However, 25 hours is a minimum and there is no guarantee that a license will be gained in this amount of time. It is quite possible to take 5, 10 or even 15 hours longer depending on the individual.

You will need to take a GST, General Skills Test. This is a bit like a driving test. You don't necessarily have to have completed all your hours before you take this. But you won't take it under you are ready!
Youwill need a valid medical certificate. You can download it here.




Document Library:
• checklists
• how to apply for your license - checks
• triangle of velocities - explained!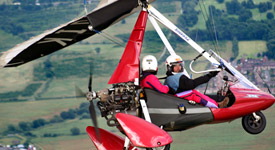 What we offer
20 minute trial flight: £65
30 minute trial flight: £75
Dome Discovery trial flight: £99
60 minutes flight training: £105
10% off when you book a course of 5 lessons!